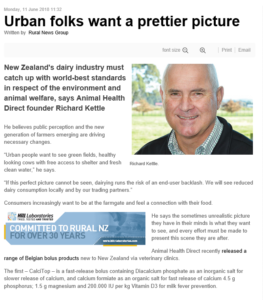 New Zealand's dairy industry must catch up with world-best standards in respect of the environment and animal welfare, says Animal Health Direct founder Richard Kettle
He believes public perception and the new generation of farmers emerging are driving necessary changes.
"Urban people want to see green fields, healthy looking cows with free access to shelter and fresh clean water," he says.
"If this perfect picture cannot be seen, dairying runs the risk of an end-user backlash. We will see reduced dairy consumption locally and by our trading partners."
Consumers increasingly want to be at the farmgate and feel a connection with their food.
He says the sometimes unrealistic picture they have in their minds is what they want to see, and every effort must be made to present this scene they are after.
Animal Health Direct recently released a range of Belgian bolus products new to New Zealand via veterinary clinics.
The first – CalciTop – is a fast-release bolus containing Diacalcium phosphate as an inorganic salt for slower release of calcium, and calcium formiate as an organic salt for fast release of calcium 4.5 g phosphorus; 1.5 g magnesium and 200.000 IU per kg Vitamin D3 for milk fever prevention.